Pittsburgh golf: The Steel City now boasts quality links and vibrant nightlife to boot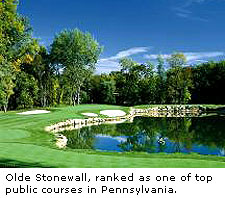 Pittsburgh may forever be associated with the landscape of the industrial age - but visitors to this vibrant city can play a slew of quality golf courses, including Olde Stonewall, Quicksilver Golf Club and Cedarbrook Golf Course.
How long does it take for a city to lose its bad reputation? About the same amount of time it takes for a temporarily wayward woman.
Pittsburgh may forever be associated with the landscape of the industrial age, with its steel mills, factories and mines, and its belching smoke and suffocating smog.
But, anyone who has visited there recently knows the City of Champions is now more cerebral than brawny.
There's a hot nightclub area in the Strip District, and they even have a cultural district, which they call, not totally unimaginatively, the "Cultural District."
And, it was one of only 13 cities to be named a "Super Solid Metro Area" in the 2000 edition of the "Places Rated Almanac," and has scored well since.
On the other hand, it ranked among the worst places in the U.S. for dating by Sperling's. The weather can be nasty, but they don't get that many earthquakes or tornadoes and, besides, the UV index is low.
But, then there is the fact that Pittsburgh is losing nine percent of its population annually, compared to the national average of plus-12. Its per capita income is less than the national average, as is its anticipated future job growth.
Violent crime is about twice the national average, but hey, enough of the bad: you're there to play golf. And if you don't mind driving a little bit, you'll find some excellent courses.
Must-play golf courses in Pittsburgh
DAY ONE: You can start the week by visiting Olde Stonewall Golf Club, 40 minutes from Pittsburgh. It was rated the top public golf course in Pennsylvania in 2003 by Golf Digest, and finished 53rd among the top 100 by Golf Magazine.
There is an impressive list of other accolades, but you get the picture: This is a great course available to the public - although pricey. Greens fees are $135 in-season from May through October, though not many golfers seem to complain.
Visitors are usually agog as soon as they pull onto the Olde Stonewall Golf Club grounds and see the medieval-like clubhouse and restaurant, complete with a knight in shining armor.
The golf course is more of the same: the owner imported giant, limestone boulders for $2 million, and they are strewn around tee boxes, cart paths and elsewhere. The 6,944-yard track features holes with rock formations, bunker complexes, waterfalls and cascading ponds.
Designed by Ohio architect Michael Hurdzan, the layout is a combination of links, modern and traditional holes, with five sets of tees for all levels. The bentgrass fairways are wide, with a small amount of rough, and the greens, also bent grass, are rolling, with breaks on nearly every putt.
Olde Stonewall Golf Club's front nine sits in a valley, while the back side climbs around the side of a mountain for the most part, with a great view of the surrounding Pennsylvania countryside.
Highlights include No. 16, a 479-yard par-4, with its dramatically elevated green, 80 feet above the fairway; some say this ranks among the top holes in the country.
The 434-yard par-4 fourth hole starts with an elevated tee, has water running along the right side of the fairway, and leads to a green famed in stonework.
The service is excellent; your bags will be whisked from your car to your cart, and your clubs will be cleaned at the end of the round.
- DAY TWO: The Quicksilver Golf Club, 30 minutes from downtown and 15 minutes from the international airport. Quicksilver offers Pittsburgh-area golfers a bit of target golf.
The golf course was built in 1971 from a design by Don Nagode, and re-designed in 1990 by Bob Murphy and Sean Parees. It's a rural, hilly course with not many trees and in which ponds and creeks come into play on eight holes. Quicksilver Golf Club's fairway widths vary, but most of the greens are sloping and fast.
Open March through December, the 7,120-yard par-72 course has hosted a PGA Senior Tour event.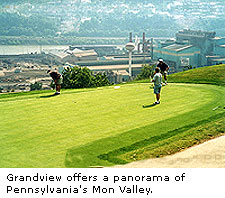 Golf courses in Pittsburgh: Solid seconds
- DAY THREE: You've played the best, now play the rest in your week of Pittsburgh golf. Grandview Golf Club offers, as you would expect, a grand view. The course sits atop a 160-acre woodland hilltop, overlooking the Mon Valley, including the Edgar Thompson facility, the first and last major steel mill in western Pennsylvania.
The 6,111-yard par-71 golf course is a relatively flat course with water on nine holes, and bunkers scattered throughout. It features level target areas and a number of elevation changes from tee to green.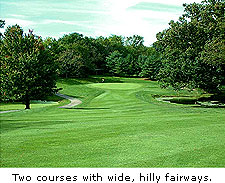 - DAY FOUR: The Cedarbrook Golf Course was built in 1962 with architecture by James Harrison, then redesigned and expanded in 1986 by Hurdzan.
Cedarbrook offers the "conditioned quality of a country club available to the public," and features two, 18-hole daily-fee courses. Cedarbrook's Gold Course, at 6,701 yards with a rating of 71.6, is longer and more challenging. Cedarbrook's Red Course, at 6,035 yards, is shorter, but requires more accuracy. Both courses have wide and hilly fairways; there are five water holes on the gold, four on the red.
The longer course is consistently ranked among the top five in western Pennsylvania. With its affordable green fees, this course is a popular one and one of the most heavily played in the area.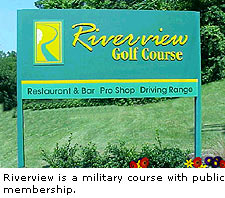 - DAY FIVE: Riverview Country Club is a military course with public membership, about 40 miles south of Pittsburgh.
Built in 1959, architect Royce Hewitt put together fairways of average width, but tricky and small greens.
There are other obstacles, such as trees and sand bunkers that come into play on most holes.
The most challenging is the 549-yard par-5 fifth hole, with dogleg right that narrows considerably as you enter the small, undulating green.
Riverview Country Club spent five years upgrading the grounds, and finished a clubhouse renovation in 2002.
Off course in Pittsburgh
If you're a sports nut, there are always the Steelers, Pirates and Penguins. If you have to get your culture fix, there is a symphony, an opera, a ballet and the Andy Warhol Museum, including daily screenings of his movies, as well as his death and disaster paintings.
For nightlife, try "industrial dancing" at Metropol, stage diving at the Electric Banana and the Carson Street Pub Crawl.
There is always the "Incline, the working museum that features two, original 1877 cable cars, and for something mildly wild, do the Ultra Violet Bus Tour, named after one of Andy Warhol's favorite movie actresses. Also, the Gateway Clipper Riverboat Fleet is a nice way to see the sights.
Pittsburgh dining
At Old Stonewall, try the Shakepeare Restaurant and Pub. But, in Pittsburgh, you should try at least one of the following: The Original Hot Dog Shop on Forbes Avenue or the Primanti Brothers Bar and Grill on South Market Place.
If you're a fireplace lover, try the Chesapeake Steak & Seafood, with its stone and oak hearth, the Shiloh Inn, which has four working fireplaces or the Stone Mansion Restaurant, which has eight.
Stay and play
What better way to get a taste of real Pennsylvania life than farm bed and breakfasts? Try Armstrong Farms, Barley Sheaf Farm Bed and Breakfast or the Olde Fogie Farm.
September 7, 2005